WECI TEFL HuaHin Testimonial
I found the training at WECI for TEFL very informative. The school is very professional with modern technology to help you prepare for you fortune in teaching English as a foreign language. If you are planning to take the TEFL course in Thailand,   look no further than WECI
Randall, USA
WECI TEFL HuaHin Testimonial
You end up better off; and you know it. You will have the means & ability to demonstrate persuasive teaching skills to prospective employers. They will want you.
First the work  the course is packed full with ideas, method, guidance, practice and hands-on direct teaching experience. The class size is small. You are in the hands of highly experienced tutors, they know what to expect from you  and they will be with you every step of the way. Helpful, but firm.
Besides well-chosen theoretical content and practical examples demonstrated, you will be preparing to front 6 classes in local schools as "Teacher" – incharge! Your performances will be monitored, and appraised, by both peers and tutors. The process is rigorous – but professional throughout. You are expected to receive all feedback as constructive criticism. Forget about being overly sensitive – you are there to learn from your mistakes, and steadily improve your abilities. If you feel like taking a morning off, "swallow a concrete pill harden up" Similarly, good advice would be, don't go out drinking at night – for the duration.
But you will realise form the outset how much you are learning that is new, practical and extremely useful Practical. When completed, the course will make your career as a teacher more effective and fulfilling. You will be ready to "Make a difference" Your newly acquired skills are likely to persuade employers that you have real "value-to-add" to their school.
Do the TEFL course. To make you a better teacher. If you are looking for an easy ride, forget it – you will find a "rude awakening". At TEFL the tutors are building a brand. You will be a part of it. No gain without pain. Work hard "Just do it"
Haydn Clive Meadows, England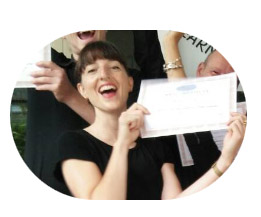 "All Positive! The teaching practices were loads of fun, which meant the subject never ever got boring. We were well looked after with water, tea, and coffee and all course materials were provided. Having 6 teaching practices at different schools has well prepared me for real life teaching. It has been hard work but lots of fun!"
Emma, England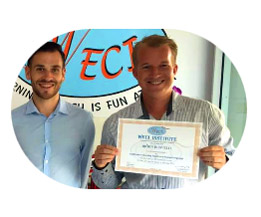 "WECI was for me the perfect school to do the in-class TEFL course. It's a small organization, which highly benefits in a lot of personal attention from the staff and management towards the students. Will is a great TEFL teacher, young, energetic, and experienced.
I have learned so much in the 4 weeks at WECI. Anybody who is considering to start a TEFL course in Thailand, I highly recommend them to go with WECI in Hua Hin."
Bjorn, Netherlands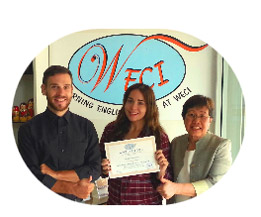 "WECI was the best choice among all TEFL programs in Southeast Asia. Learning how to be a more effective teacher through the WECI TEFL certification program was an overall unique learning experience. The class size was small, which allowed to me build great personal one on one relationships with my peers and my instructor. As a learner and a teacher, I learned how to play the roles of both. Through WECI, I put myself in the shoes of my students and immersed myself into a wonderful culture. I had excellent peer to peer observation in real hands-on classroom teaching practice. My teaching skills were honed and strengthened so that I could gain confidence as a teacher."
Melissa, USA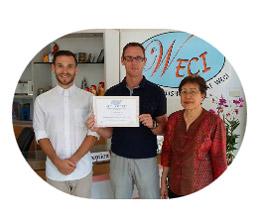 "In February 2016, I came across the WECI TEFL course in Thailand on Google. I started the course in March and I really enjoyed it. WECI has a friendly team and the TEFL tutor, Will, was very supportive and helpful. WECI helped to find a job, as they advertised, and I
now teach in a beautiful part of Thailand. At the beginning of this course, I was little bit apprehensive, but a few days after the course started, this feeling
I definitely recommend the WECI TEFL course; they provide you with all the material you need, give you real teaching experience in schools, and work hard to help to find the best available teaching positions after the course."
Janos Vinrad, Hungary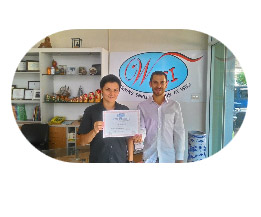 "I found the TEFL training at WECI very pleasant. I could teach in a real school during the course, which I found very practical and useful. I found myself in different situations during teaching practice that will probably occur during my job as a teacher. So, I could prepare myself for various circumstances. My trainer helped me a lot with improving as a teacher. He pointed out my weak points and helped me to get better. On the other hand, he informed me of my strong points and other positive parts on my teaching."
Agnes, Hungary
"Great school and fantastic support from all at WECI. It is at a wonderful location in Hua Hin. Very good accommodation, close to the school. The quality of the TEFL course was fantastic. WECI really has a fantastic product and I encourage any who are interested to jump on board without delay."
Owen Woodcock, Australia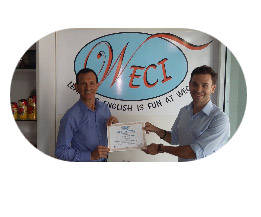 "After taking the WECI TEFL course, I started working within 5 days at a school in Ratchaburi Province, Thailand. Having William as my TEFL trainer prepared me perfectly for my teaching career. William has years of teaching experience and the course covers all areas of teaching English as a foreign language, including the student centered approach instead of teacher centered. I am very happy in my new job and the training I received at WECI; I highly recommend the WECI TEFL course to others."
Vladimir, Russia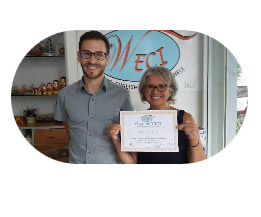 "This course has given me the courage to teach English wherever my travels take me in the future. WECI TEFL opens doors for me that would otherwise be closed, no matter your age."
Maida, USA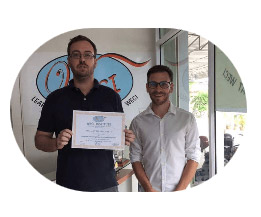 "I found the course fun, exciting and challenging on a personal level. I would recommend it to anyone and realize that the skills I have learned can be used in everyday life." Ben Strett, Australia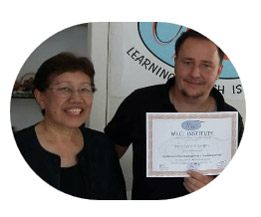 "A very complete and interesting course. The trainer is very committed to his job. For sure I will recommend this course to anyone who wants to teach English in Thailand. The atmosphere at the training centre is very friendly too."
Florian, France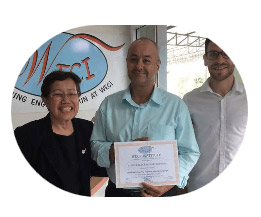 "The teaching practices were a fantastic live assignment. It enables teachers to face the music and get feedback from other students. Without it, you would never realize how important it is to be able to deal with different situations in the classroom. I have improved my English also, and WECI TEFL is the perfect training where you can learn about teaching English and Thai culture." Patrick Fournes, France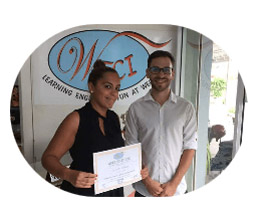 "I really enjoyed the course, especially since I started an online TEFL a year ago and was unable to complete it. I preferred the actual experience of learning in class and during teaching practices to see some of the day to day challenges that occur in a real teaching position."
Leslie Padilla, USA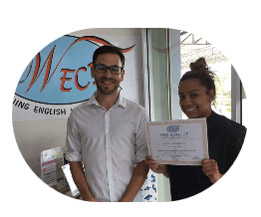 "I really enjoyed the course: the way it was broken up and the order in which the lessons were scheduled. This allows you to see your progress throughout the course. The instructor was also very informative and knowledgeable. Overall, the classes were very enjoyable. I would definitely recommend this place!"
Daisy Johnson, USA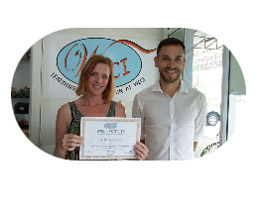 "WECI offers a comprehensive course on teaching English as a foreign language. It is well structured and the hands on experience they offer in a real Thai classroom is intvaluable!"
Wendy Fisher, USA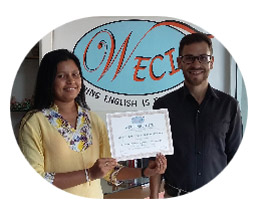 "I had a good experience teaching Thai kids during teaching practice and excellent guidance from the instructor. I taught school children and university students and the instructor guided me well. A very good course for student teachers to gain real knowledge."
Harini, Sri Lanka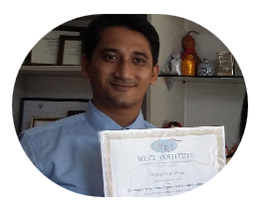 "Being a non native English speaker, I expected the course to be hard. But, it was quite easy because the instructor puts the spotlight on any mistakes one makes in the assignments and during the teaching practices at the school and university. This course has well prepared me to be a professional teacher."
Ranjan, India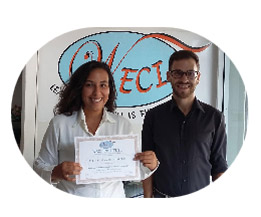 "Excellent instructor and lovely staff. I enjoyed my time in Thailand while I earned my teaching qualification that will help me in the future."
Perla, Venezuala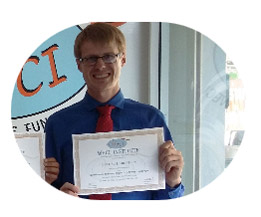 "The WECI TEFL course is an intensive and comprehensive way to develop the skills necessary to teaching English in the classroom. The feedback about my teaching was clear and helpful with very useful instruction from the trainer. The accommodation is very comfortable and well equipped. The staff is helpful and work hard. The course price is very reasonable and well worth it for the valuable instruction I received."
Nathan, USA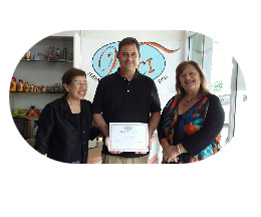 I enjoyed meeting the staff at WECI, as well as the training and the accommodation. Excellent materials and I learnt a lot."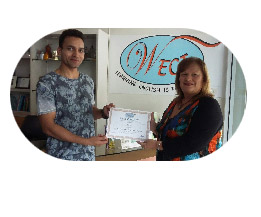 "I am very pleased with the course and way the instructor taught us. The curriculum was very practice based which helped us to learn in a better way. We noticed our mistakes and how to rectify them. Overall it was fun to learn at WECI and I would recommend them to anyone."
Mukesh Goswami, India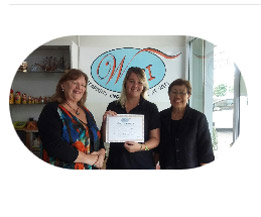 Great course ! I feel confident in starting my new teaching job after completing this course. Thank you Wanna and Nicky!"
Kaylin Jones, South Africa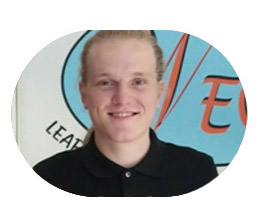 "WECI is a great course. The resources they give the student is exceptional. The training and TP and all the classroom time is geared towards the student. T. Nicky, Wanna and Bank are very supportive and that was nice"
Ezekiel, America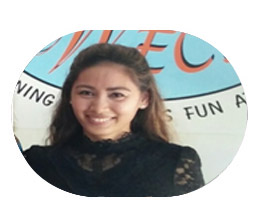 "I found my training with WECI to be over whelming at first, but l was able to overcome it after the first week of training, due to great support and guidance from WECI. The school and the training was very organized, I never thought I could teach, but training with WEC, I honed my teaching skills, as well as confidence. I will never forget the people I've met in this course, and of course, I will always be grateful to WECI. Thank you!!!
Johann, Philippines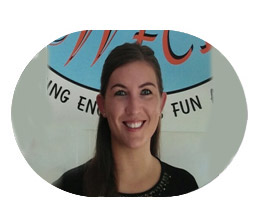 "This course was great. I feel completely prepared to be an English teacher now."
Kayla, America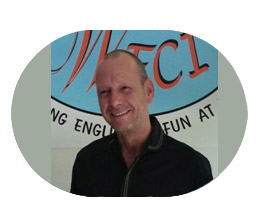 "It was a great experience, Nicky was a great teacher, I could not wish for move help and support. She's experienced and willing to share with us in a wonderful way. Also, Wanna's hospitality and Bank's help were great. We learned a lot from Nicky and from each other."
Peter, Netherlands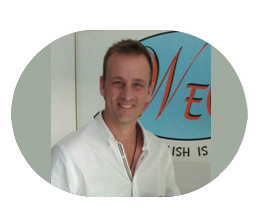 "It is hard to believe how much I. have learned the last month."
Bas, Netherlands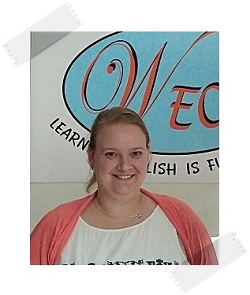 I learned a lot during The TPs, was a nice " Live" experience with the kids. I feel that I could improve my class management and I am not afraid to give a full 50 minutes lesson in front of 30 students.
I could suggest to choose this course if you would like to experiences more about Thai students / teachers and the country itself.   Thank you for everything.
Katalin, Hungary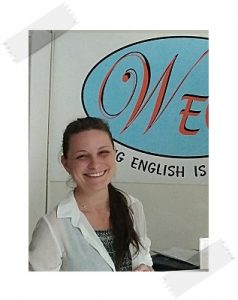 One of the best experiences in my life. I would totally recommend it to anyone with or without any teaching experience and challenging course. I honestly believe I achieved my presentation goals, and got to experience how much fun it can be to teach. Adorable and delight students, stunning city of Hua Hin, delicious food and beautiful beach, where is most to live.
Nora, Hungary
I had a unique experience; I feel prepared to start working.  I have got, not only a lot of new information, knowledge and experience at the 6 teaching practices, but also materials and teaching tips, which is more than great.  I actually thought that I need to take the course just for the certificate, because I already had a position, but I learnt so much and feel really prepared to start the job.  This course was great for building my confidence.
Maria, Russia
I was happy with my course, we worked hard but I think teacher Nicky worked harder. J  The school was well managed and I really liked the team. Many thanks to everyone.
The course gave me opportunities to find out about real teaching and go to real Thai schools and meet with students.  It was beautiful to teach the smaller students, this was priceless.  This TEFL training was a beautiful experience, you have to try it!
 Balazs, Hungary
I liked the course, it was challenging. I enjoyed having a variety of observers and feedback and suggestions for improvement. I appreciate the extra time I was given to help me be successful in the class. Thank all of you for all help and support!
Erika, Hungary